Adderley Children's Centre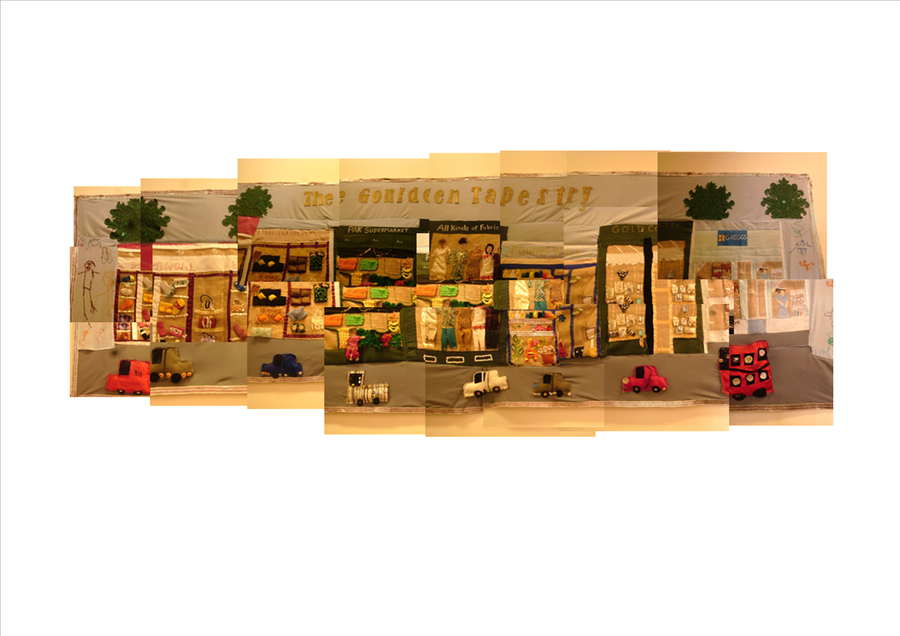 Adderley Children's Centre fully integrates the early year's provision for children 0- 3 years and the Nursery school for 3 to 4 year olds into its holistic children's centre services. The Centre is an effective vibrant setting, and lies at the heart of the Saltley community and is popular with its predominantly Muslim community whose families originated from Pakistan and Bangladesh. The majority of children attending the centre have English as an additional language including Urdu, Punjabi/ Mirpuri, Bengali, Pushto, Gujarat, Somali, Arabic and Farsi.
It is close to inner city Birmingham and is in an area of high social deprivation. The community within the Washwood Heath Ward falls into the 10% most deprived area nationally.
As a first phase children's centre we have 687 children under the age of 5 within the reach area, all living in the 2 SOAs ranked as the 0-10% most deprived:
9% of residents were born outside of the EU (2011 Census)

7% of children born in Adderley's reach area between

January and December 2011 were from a BME group (EYMIS)

Ethnic breakdown of residents: 59.8% Pakistani, 10.1% Bangladeshi, 9.6% Other Asian, 3.7% White-British, & 3.5% Black-African (2011 Census)
Many of the children who attend the centre come from families that face considerably challenging social and economic circumstances. We provide high quality care and education early year's services for 180 children under five. Attainment on entry is well below national expectations with many children having underdeveloped social and emotional skills and at an early stage of developing English (90%) and/or their first language. At the end of the Foundation Stage for 2013, for children who live within our SOAs, the summary of their profile results show that 58% children are achieving good development, this is above the National Average (52%) and the Local Authority (50%).
Adderley has an outstanding track record in registering (100.4% 2012-14) and engaging families (75.6% as of December 13, 90% December 14). We provide extensive services for families including: support for pre and post natal mothers, managing children's behaviour, involving parents in their children's learning and development, raising awareness on health related topics, developing personal and social skills, language and numeracy and training opportunities for adults leading to accredited qualifications. In the Saltley locality 51% of adults are without qualifications. We have a resident partnerships with GOAL (a social enterprise for women back into training and employment); ACACIA (pre and post natal depression; University College Birmingham (NVQ 2 and 3 childcare, teaching assistant courses).
Adderley - an Integrated Centre
Integration is at the core of our philosophy and practice. Our Centre governance, leadership, organisation, policies, practice and procedures are embedded in a fully integrated centre model which has been developed since 1970s and recognised with Early Excellence designation in 2002. Adderley Children's Centre (previously Adderley Nursery Centre) grew out of two different statutory provisions dating back to the 1970s: a traditional nursery school and a social services day care (community day nursery) provision. During the 1990s the two provisions integrated more closely together under one management structure and staff team. The centre also agreed a service level agreement, with the local authority, to provide 104 FTE places (23 FTE places for children of families in addition deemed in need) and to develop a family support service. This service was the first of its kind in the city. In 2002 it was designated an Early Excellence Centre. This pilot programme involving 100 designated, high quality of integrated provisions provided strong models and pioneering evidence of good practice in integration which could be disseminated nationally. (Pascal, C. & Bertram, A. 2002)
We are proud of our longstanding history of integration with many strong traditions including high levels of parent engagement and inclusion. The staff group includes teachers, senior nursery officers, senior family project workers and nursery officers. It was designated as a first phase Children's Centre in 2005.
In 2011 Adderley was designated Early Years Teaching Centre (as one of 5 nursery schools in the Birmingham Consortium) as part of a National Government initiative. In 2011-13 we have developed our delivery through a locality approach. This led to the establishment of the Early Years Improvement Group (EYIG) to inform Birmingham City Council in regards to the improvement and quality early years provision and practice. This has also led to the creation of locality based Early Years networks. In our locality our children's centre teacher along with staff from Washwood Heath Nursery School and Children's Centre lead the network.
Our present staff team (45) consists of head teacher, deputy heads (curriculum and care), teachers, SENCO, business manager, nursery manager, senior family support and senior nursery officers, nursery officers, support staff (admin, caretaking/ cleaning, catering) and volunteers.
Our emphasis as practitioners is focussing on creating the emotional learning environment and ensuring it is warm and accepting of everyone. We build respectful and caring relationships with all children and families while focusing on learning and achievement.
Our learning environment provides a safe, secure and challenging space for children and families. The provision for adult learning is both welcoming and supportive. Rich experiences stimulate and excite children's natural curiosity and develop skills of enquiry. Our diverse outdoor environment offers our children freedom to explore the natural world, be physically active and play on a large scale. Being outdoors has a positive impact on our children's sense of well-being and engages our kinaesthetic learners. As our children gain confidence in the environment they are willing to try things out, knowing that their effort is valued. Our environment fosters confident, capable, creative citizens.
Integrated Centres and Nursery Schools and Outcomes for Children
The very first integrated provision was Hillfields Early Years Centre, Coventry which grew out of the idea of combing the very best of the nursery school practice with the qualities of a social care day nursery. This model ignited the spark which began to see other models of integrating care and education emerging from health, community, private and voluntary sectors.
In 1975 Adderley Nursery Centre opened as a result of a joint project between Education and Social Services led by head teacher of Adderley Nursery School (which had opened in 1970s) and an Officer in charge Social Services. From1975 'Adderley Nursery School and Centre' catered for 110 F.T.E. places with children being on a priority or non-priority register. The project existed in this format with staff working for the two departments co-operating to provide the best possible service to families.
At the heart of effective early year's practice lies education and those that have most impact on narrowing the gap and outcomes for children are integrated centres and nursery schools. (The Effective Provision of Pre-school, Primary and Secondary Education (EPPSE) project DfE funded 1997-2013, is the first major study in the UK to investigate the effects of pre-school's positive effects of education and care on children's attainment, progress and development.
The EPPSE team collected a wide range of information on 3,000 children who were recruited at age 3+ have been studied longitudinally until the end of Key Stage 3. (1997-2004) More than 3,000 children were assessed at the start of pre-school have been assessed at key points until the end of Key Stage 3 in secondary school and are currently being followed through their final year of compulsory schooling and on to their post 16 educational, training and employment choices.
The first major study in the UK to focus specifically on the effectiveness of early years education.
The EPPSE project is a large-scale, longitudinal study of the progress and development of children from pre-school to post-compulsory education.
Settings in the state educational sector have children who make (comparatively) more progress than those in the private/voluntary sector.

In the EPPE sample, nursery schools and centres that integrated education and care rated highest on quality, (e.g. ECERS and Caregiver Interaction Scale).

Good quality and better cognitive outcomes for children are associated with higher quality as defined by the ECERS R and E
In the most effective settings, staff had
better knowledge of the curriculum and child development

engaged more in 'sustained shared thinking' with children

Supported children in talking through and resolving conflict

Adults had warm, responsive relationships with children.
Set clear educational goals.
Have recognised early years qualifications.
Trained teachers are amongst the staff.
Parents are supported in involvement in children's learning.
In the final report for EPPSE (2012) at the end of Key Stage 3 one significant finding concluded that `High quality pre-school had particular benefits for children who had a poor early years home learning environment'. ( Sylva, K. Melhuish, M. Sammons, P., Siraj-Blatchford, and Taggart, B Institute of Education, University of London, + Birkbeck, University of London, & University of Oxford 2012)